We're thrilled to announce that Citalid has been featured in the Gartner Hype Cycle for Cyber Risk Quantification (CRQ), solidifying our position as a European pioneer in this cutting-edge technology.
CRQ unlocks decision-making and communication improvement.
Security and risk management (SRM) leaders struggle to match business expectations with subjective expertise and are increasingly being asked to express cyber risks in monetary terms to enable comparisons with risks across the enterprise (e.g., operational, financial, and health or safety risks). Interestingly, out of the 5 top use cases of CRQ named by the SRM leaders surveyed by Gartner*, 3 of them are tied to unlock communication challenges.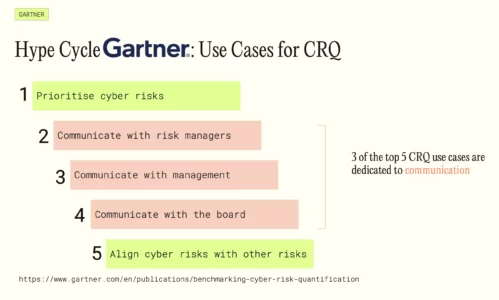 A sophisticated CRQ solution not only aids in tactical decision-making with actionable insights for remediation, but also provides quantitative data and intel to justify current and future cybersecurity projects. Other than the communication aspect, a CRQ solution also provides relevant data for determining risk transfer options, as well as optimizing insurance premiums.
"Since the launch of Citalid 6 years ago, we've seen how much the market is maturing about the Cyber Risk Quantification approach. By helping cybersecurity leaders make informed decisions about their risk and communicating to their stakeholders for better strategic understanding of their role, we hope to see CRQ become a commodity for most organizations." said Maxime Cartan, Co-founder & CEO at Citalid.
In the 2023 issue of Hype Cycle for Cyber Risk Quantification, CRQ maturity is stated to be reached within 2-5 years, while the 2022 issue was anticipating it within 5-10 years. The past year has been crucial for CRQ, gaining strong adoption amongst many organizations, from large to medium, as well as for the insurance industry. By solving a variety of use cases, CRQ allows to add highly strategic insights especially when infused with dynamic threat data to finally get contextualized risk assessment.
Citalid: Reshaping Cyber Risk Quantification and hitting sophistication.
Since 2017, Citalid has emerged as a trailblazer in the field of cyber risk quantification, a critical process that empowers organizations to evaluate their cybersecurity posture and make informed decisions based on data-driven insights. Traditional risk assessment models often fall short in providing accurate, real-time estimations of potential cyber threats. Citalid is here to bridge that gap.
Our platform leverages advanced artificial intelligence, machine learning, and data analytics to analyze vast amounts of cyber risk data. All these capabilities fall into the most advanced sophistication stage of CRQ according to Gartner Hype Cycle and can be leveraged both by enterprises to measure the financial impact of their own risk, as well as by insurance players to assess insurability of their prospects and manage their portfolio exposure.
By combining historical data, threat intelligence feeds, and contextual information, Citalid offers a holistic view of an organization's cyber risk exposure. This enables businesses to prioritize their cybersecurity efforts effectively, allocate resources efficiently, and implement targeted risk mitigation strategies.
"As the only European software company in the Hype Cycle for CRQ, We are proud to be recognized by Gartner as one of the key global players in the field of Cyber Risk. Our efforts in developing such an advanced technology for CISOs, Risk Managers and Insurers are paying off with this great recognition of our capability to influence the CRQ market. On our way to address new markets, it is a great signal of our capability to solve many use cases for enterprises and insurers." added Maxime Cartan.
Understanding Gartner Hype Cycle.
The Gartner Hype Cycle provides a comprehensive view of the maturity and potential of various technologies within specific domains. Positioned on a curve that illustrates the trajectory of a technology's lifecycle, the Hype Cycle helps organizations comprehend the risks and rewards associated with adopting emerging technologies. Being featured on this cycle is a recognition to Citalid's disruptive approach to address the current and upcoming cyber risk quantification challenges. 
*Source: Gartner: "Benchmarking Cyber Risk Quantification: models, use case and outcomes". 
To learn more about how we infuse Cyber Threat Intelligence into our Cyber Risk Quantification engine, don't miss a chance to talk with one of our experts by booking a demo.