Policy
When you browse the Website https://citalid.com/ (hereafter the "Website"), Citalid collects your express consent prior to the deposit of cookies when these are not strictly necessary for the functioning of the said Website.
1. What is a cookie?
A "cookie" is a text file placed on your hard drive by the server of the Website you are visiting.
It usually contains the name of the server that filed it, an identifier in the form of a unique number and an expiry date. It is intended to collect information about your browsing habits in order to offer you services tailored to your device (computer, mobile or tablet).
2. What types of cookies do we use and for what purposes?
The types of cookies used on our Website are the following:
Session cookies: these record technical information as you move from one page to another on our Website. These cookies have a limited lifetime and expire when you close your web browser.
Persistent cookies: these are used to save your login details and remember your settings the next time you visit the Website. A persistent cookie is stored as a file on your computer and remains there when you close your web browser.
Internal cookies: these are our own cookies, which we use to improve your experience. They are associated with a user's personal information. No third party has access to the information we collect through our own cookies.
Third party cookies: these are cookies that are placed on our Website by third parties in order to offer their services. They place cookies on your device on our behalf when you visit our Website to enable them to provide the services they do. You can find more information about these cookies in their privacy policy.
Below is a detailed list of the different categories/purposes of cookies we use on our Website. Insofar as some of the information collected through cookies constitutes personal data, the provisions contained in the Citalid Data Protection Policy apply in addition to the present Policy relating to cookies.
Essential cookies
Video cookies: these are third-party and session cookies. These cookies are set by YouTube to allow the user to view multimedia content directly on the Website.
Audience measurement cookies: these are third-party and session cookies. These cookies are set by YouTube. They collect information about how you use and browse our Website. For example, these cookies allow us to generate traffic statistics that are useful for improving the Website. We use this information for analysing trends, Website administration and tracking users' movements. These cookies help us to improve the way the Website works.
We invite you to consult Google's data protection policy to find out about the purposes for which it may use the information it collects (see section 3. below).
Targeted/personalized advertising cookie: these are third party and session cookies. These cookies are set by YouTube and DoubleClick. These cookies are used to display advertising based on your interests on third party websites that you visit.
The detailed list of cookies: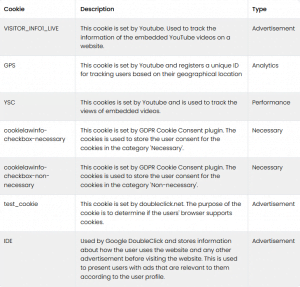 3. Which companies use cookies on our Website?
4. How do I change the settings for depositing cookies?
You can change your choices about accepting or refusing cookies placed on your device at any time by clicking on the button at the bottom right (Manage Consent).
You are free to accept or decline cookies on a per-purpose basis or to accept or decline them overall.
We draw your attention to the fact that the setting of cookies is likely to modify your conditions of access to the Website and its functions and, thus, to limit its performance.
When you accept or object to the deposit of cookies via the Website, a cookie is installed on your browser to store your choice and not to solicit you again for a certain period of time.
5. How long will the cookies be stored?
When cookies or other trackers not essential to the operation of the Website are deposited on your terminal, they are kept for no more than 6 months.