In an era where every organization – no matter the size or the industry – fears to be targeted by cyber criminals, staying ahead of the threat has become a top priority for most businesses. This is what we, at Citalid, stand for: the threat is real, the fear does not have to be.
Our Cyber Risk Quantification platform aims to help CISOs make informed decisions about the risk they face, as well as communicate them to their internal stakeholders. To provide the most accurate financial insights about the potential loss they would face, we feed our proprietary algorithms with dynamic and contextualized Cyber Threat Intelligence. This enables our clients to get access to contextualized and accurate risk analysis while maturing their knowledge about the threat they face.
Today, we are excited to introduce the latest addition to our SaaS platform that is set to revolutionize the way organizations monitor, mitigate, and transfer cyber risks. Say hello to the Risk Intelligence Center module, your all-in-one hub to face uncertainty with clarity.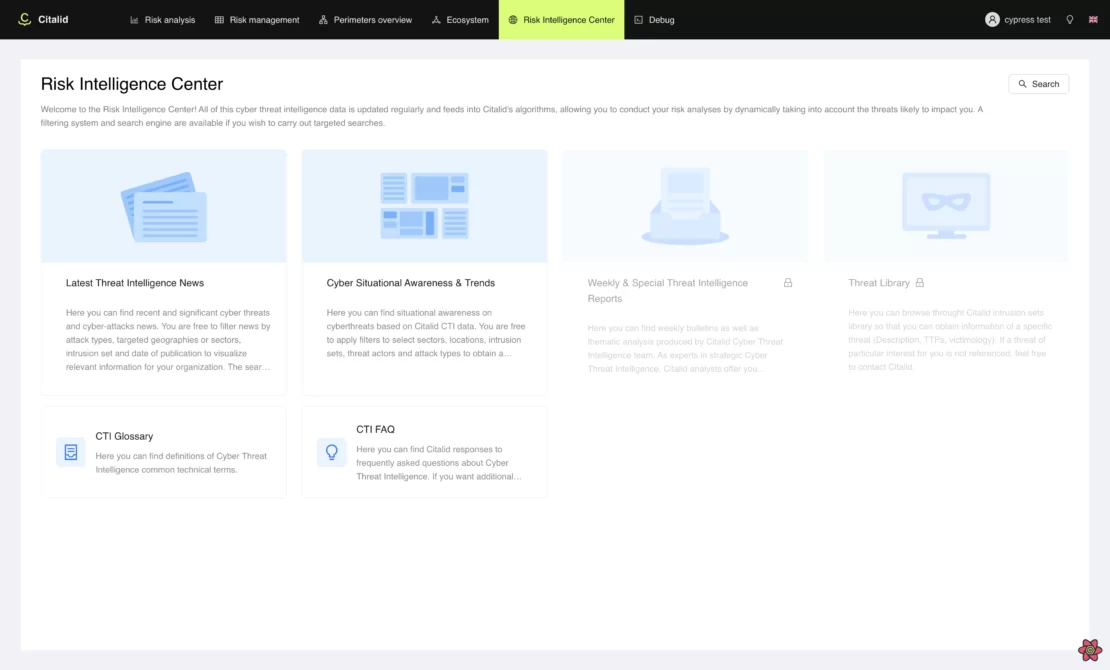 The Risk Intelligence Center module: getting your daily dose of cyber insights.
To protect your organization effectively, you need access to timely, accurate, and actionable information. This is where the Risk Intelligence Center steps in.
Here is what the Risk Intelligence Center adds to the existing Citalid platform:
Dynamic threat feed. Our team of cyber & geopolitical analysts collect, analyze and summarize major ongoing cyber threats so you can stay informed any time and save precious time on information collection.
Contextualized threat events. Understanding how cyber criminals act is crucial to prepare and increase your defense maturity profile. In this section, we provide deeper analysis of ongoing attacks, filtered by industry so you can get a view on cyber risk that matters for your specific environment. Your security program gains in accuracy.
Detailed reports by industry or threat actors. Browse our resources and get access to detailed reports and thematic studies on the state of the threat on a specific industry or threat actor. These resources are downloadable so you can share it with your teams to grow the threat maturity awareness at every level in your organization.
Cyber threat actors library. Browse our database of in-depth profiles of threat actors, specifying their sectoral and geographical targeting habits, as well as detailing their tactics, techniques, and procedures (TTPs) and associated defense techniques.
Within the Risk Intelligence Center, we are also providing our clients with a "CTI glossary" to get access to a set of concise, easy-to-understand definitions and to stay as transparent as possible on our CTI analytics and how we run our scenarios.
Key Benefits of the Risk Intelligence Center
Now that we've introduced the module, let's dive into the tangible benefits it offers.
Contextualized Threat Awareness: With real-time threat data and threat actor profiles at your fingertips, you gain a heightened awareness of the ever-evolving cyber threat landscape.
Proactive Risk Management: Armed with actionable insights, your organization can proactively identify and mitigate potential threats before they escalate.
Resource Optimization: By centralizing threat intelligence, the Risk Intelligence Center streamlines your cybersecurity efforts, ensuring you allocate resources where they are needed most.
Confidence in Decision-Making: Informed decisions are better decisions. With our library of reports and insights, you can confidently navigate the complex world of cybersecurity.
Citalid offers a unique differentiation into its Cyber Risk Quantification platform by integrating contextualized threat Intelligence data into the Risk Quantification computation. This way, Citalid's users benefit with a targeted set of results and recommended actions, saving precious time and budget to deliver the required ROI
Available to Citalid's clients, this new module will change the way security leaders arm themselves with information to act with confidence when it comes to assessing their risk, building security and insurance roadmaps and communicating about their investment decisions with the board.